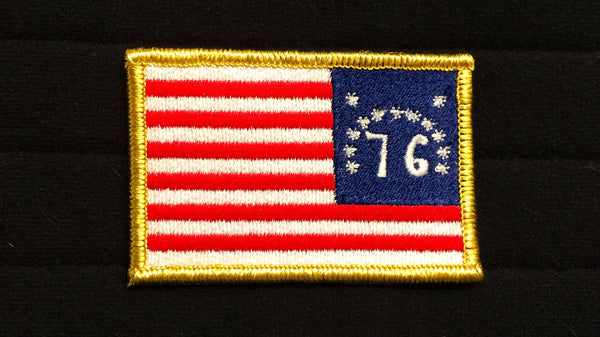 Bennington Battle Flag Patch v2
---
---
is back-ordered. We will ship it separately in 10 to 15 days.
---
---
The original Bennington Battle Flag, which hangs in the Bennington Museum is the oldest surviving "stars and stripes" American flag.  It was said to have flown with General John Starke at the Battle of Bennington in August of 1777, but modern analysis has proven the fabric the flag is made of is machine spun cotton, which wasn't possible until after 1810.  It is now believed "76" on the flag was used to inspire the troops and commemorate the Revolutionary War victory during the hard years of the War of 1812.
No matter what battle the flag was flown in, we are proud to have faithfully recreated this historic flag.  Designed as a battle flag and following the current military convention of wearing the colors on the right shoulder, the reverse side of the Bennington Battle Flag has been faithfully recreated on this patch.
~3"x 2"
Embroidered
Velcro Backed
---
Share this product
---
---